This Victorian Mansion was built in 1896 by John Hill Matthews. He was the 1st mayor of Bowie and was one of the founding fathers of the city. He was instrumental in getting the railroad, public school, and many of the city's features instituted that we still enjoy today.
The house consist of 5,535 square feet with 6 bedrooms, 4 bathrooms, a dining hall that seats 12 comfortably, music room and parlor. It also has a breakfast room and large den. The kitchen is large enough to accommodate a great family gathering. There is also a study upstairs along with several sitting rooms and reading areas. It has a wrap around porch with a gazebo in front that can be used for weddings. For guest staying overnight, we offer a 2 car garage for their protection.
The house is located in the historical district of Bowie and just 2 blocks from downtown shopping. The house is large enough for a wedding party of around 30 people and the lawn is landscaped and will provide for a beautiful outside wedding in the gazebo on the front porch. We offer three wedding packages available on request.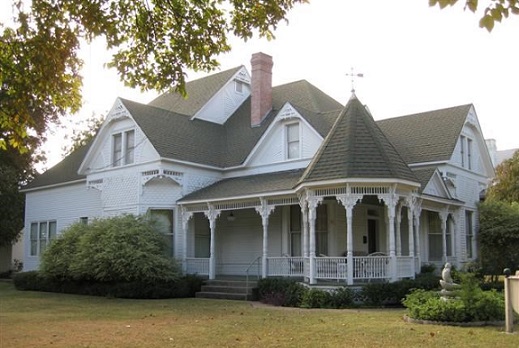 Call today to book your next stay or event.
(940) 531-0109